MLP Weekly #32 : with Catel and Bocquet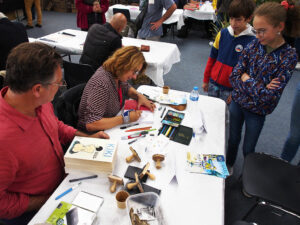 This weekend, the La BD Takes to the Air festival took place in the Lot village of Cajarc. Catel, designer and author of numerous books, accompanied by her partner in crime Bocquet, was the guest of honor.
I discovered this comic strip duo 15 years ago, when I was still living in Paris, with their biography of Olympe de Gouges. At the time, almost no one had heard of this revolutionary behind, in 1791, the Declaration of the Rights of Woman and Citizen. I was amazed that I had never heard his name during my schooling. I continued with the biography of Kiki de Montparnasse, muse of Man Ray among others, and model of many emblematic works in the History of Art. In her biography, Josephine Baker appeared to me in her true nature: an immense artist and a courageous woman who participated very actively in the French resistance. Le Roman des Gosciny or Quator are also readings that I devoured, signed by Catel.
In short, I love it. And now I have the opportunity to meet them. Both are very kind, and I really appreciated the exchange we had.
The show welcomed many comic book authors, and the public was there. Obviously, I couldn't resist the urge to share with you a few moments of the afternoon I spent there.