MLP Weekly #33 : cultural week-end in Cahors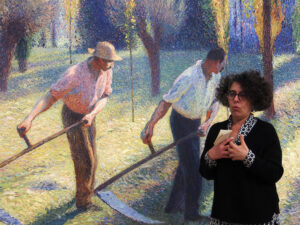 Thanks to the missions I carry out for the magazine Dire Lot, the tourist guide Le Petit Futé, or editorial monitoring for the Occitanie region, I am aware of many cultural events around my home. This weekend, I therefore took advantage of the visit of a long-time friend who shares my passions for culture in all its forms to take her to discover the Henri-Martin museum in Cahors where we were able to listen the technical explanations of the restorer of the huge painting La Fenaison. On the music side, we made a big difference (or not) between the group Ez3kiel at the Docks and a concert of romantic music in the auditorium.
Cahors and the entire Lot offer many cultural events throughout the territory. In terms of organization, we are at the top, but it's communication that's a little lacking… So you have to go fishing for information, have a few reflexes to find out about the often rich and varied programs of associations and strategic places. .