Emmanuel Macron in Saint Cirq-Lapopie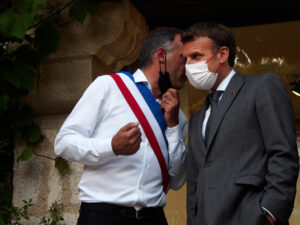 This Wednesday, June 2, Emmanuel Macron began his tour of France of the regions by the Lot, first passing through Saint Cirq-Lapopie, then in Martel, to finish with a meeting at the Prefecture of Cahors. The big announcements made there live are the possibility of going on vacation this summer, the opening of vaccination for 12-18 year olds from June 15, and above all an envelope of 15 billion € additional for tourism.
In Saint Cirq-Lapopie, the President met with tourism stakeholders to discuss their situation following the year of health crisis due to Covid-19, before going to meet the inhabitants. The mayor of Saint Cirq-Lapopie, Gérard Miquel, is part of LREM, and nearly 78% of the village's population voted for Emmanuel Macron in the 2017 presidential elections. He took the time to discuss with several members of the public, to make many selfies and greetings in Indian style or with the fist, before going around the tourist office, listening to the concert of a local group on the square, then visiting the Rignault Museum. / p>
President in the electoral campaign before the 2022 elections or a real desire to listen to the French who have suffered the full brunt of a crisis whose outcome is not yet known?