François Hollande in the Lot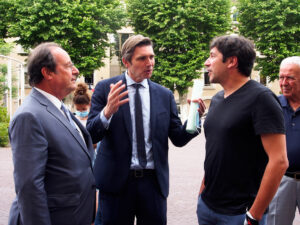 François Hollande came to the Lot this Thursday, June 17th. He arrived accompanied by Jean-Marc Vayssouze, Mayor of Cahors, and Michel Prosic, Prefect of Lot, at 10:30 am. On the Place BEssières, strikers from the Post Office in Gramat were waiting for him: they want to bring in a mediator between them and their management, because they want the precarious positions currently held by temporary workers from Toulouse to be transformed into CDD and CDI positions. . In addition, they explain that citizens do not benefit from a quality public service.
The former President then spoke with Ludovic Graillat, manager of Le Grand Palais cinema , and admired the building. After greeting children on a school trip, he visited 3 cinemas. Finally, he answered journalists' questions: "I come in a selfless way, listening to citizens. I chose the Lot out of friendship for Jean-Marc Vayssouze, by proximity to Corrèze, and not to follow my successor [editor's note. Emmanuel Macron came to the Lot 15 days earlier ]. " As for the future of the country and the elections of 2022, he does not comment on the "headliner", but does not see Jean-Luc Mélanchon in a leading role: "Possibly a supporting role of villain, he roars , it scares children "he laughs.
The next step was made with the association Les Cas du Cyrque, and lunch in Douelle.
In the afternoon, François Hollande visited in the village of Les Arques. He was welcomed by Serge Rigal, President of the Departmental Council, as well as many mayors from the surrounding area. They visited the Zadkine museum with explanations from Catherine Prunet, vice-president of the department, and the Arques workshops, where he spoke with an artist in residence. The day ended with a wine tasting with representatives of the younger generation of winegrowers.