Oh my Lot ! I got the contract !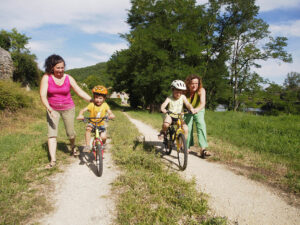 That's it, it's official, I just signed my first contract for the Lot Department as part of the Oh my Lot! Together with other fellow local photographers, we will submit photos to show how fantastic life in the Lot is. And it's not a bluff!
The Lot is a department with an aging population. He needs new blood, new ideas, new business creations, children, life, what! Apart from the nature which is obviously magnificent, the quality of life there is really sweet. It's been more than 10 years since I left Paris, without regret, for a small village in the Lot Valley. I'm so good at it that I bought a ruined boatman's house and had it completely redone, with a view of the river and superb sunsets as a bonus (which I share on Instagram with as much enthusiasm as ever : team #sunsetlovers repezent!).
Who doesn't want to swim in the river after a day's work? To have barbecues and picnics for 5 months of the year? To jump from the hills in a paraglider? Paddling like crazy in the waterways? To eat foie gras during a simple working lunch? To participate in a giant truffle omelette? To applaud great artists in places that are themselves spectacular? To see your children grow up surrounded by nature and animals, to teach them to ride a bike on small hiking trails, to have water fights in the garden pool?
On Instagram, follow #OhmyLot and you'll see what I'm talking about…