MLP Weekly#39 : ASVOFF with Laura Albert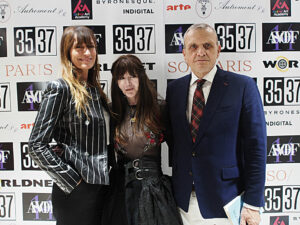 From November 10 to 13, 2022, the A Shaded View On Fashion Festival (ASVOFF) was held by Diane Pernet, high priestess of fashion and pioneer of fashion blogs. Jean-Charles de Castelbajac and Caroline de Maigret were its presidents.
I was able to attend the closing evening with my friend Laura Albert, and where the photographer and director Bruce Weber was the guest of honor to present his latest documentary film "The Treasure of his Youth: the photographs of Paolo di Paolo ".
I'm not a savvy fashionista, although I know a few must-have names, and I confess I expected a party, glamorous night out, and it was, but also engaged with movies that highlight the work of women or minorities, and especially very talented young artists. Support and a springboard for the great artists of tomorrow, perhaps?
It was in any case a real pleasure to discuss with them, in a simple way and with a lot of good humor, just like with artists of international stature like Orlan or Jay-Jay Johanson.