MLP Weekly #45 : come back on Oh my Lot ! in 2022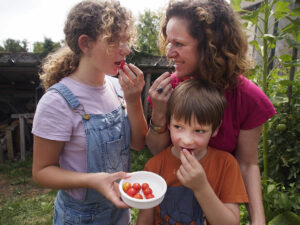 Last summer, I worked with the Department of Lot for their attractiveness campaign Oh my Lot! to make you want to choose the Lot to come there live. I had a lot of fun with my friends and their children who lent themselves to the shooting exercise. Thanks to them for their patience, their dynamism, and even their obedience to all my requests.
Nice memories… Some of the photos from the shoot were selected for Oh my Lot! and already published on their social networks, others will come later and I leave the exclusivity to them. Here, these are the photos not selected by the Department (because at one point, you had to choose some!), but I like them very much, I wanted to share this beautiful bond, and behind the scenes of the shoot.
Little secret: there are no chickens in this garden, but rabbits, so we just went to look for eggs in the fridge!