MLP Weekly #35 : first steps in Barcelona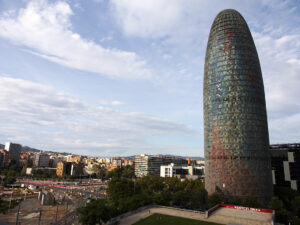 I've been dreaming of going there for years: I finally took my first steps in Barcelona. First, the astonishing Gloriès tower, created by Jean Nouvel. I admit to having called it for a while "the suppository". Then I ended up finding a certain beauty in it (but not a certain beauty, don't mess around).
The Encants Vells flea market was amazingly lively, the Juan Miro park disappointed me a bit, despite its superb palm trees, but I was totally enchanted by the Gothic quarter, but also the Poblenou quarter that I didn't haven't traveled enough for my taste.
Obviously, the trip is also through the taste buds that it happens… The Boqueria covered market is very attractive, and the tiny restaurant La Pepita bears its name very well. I was very lucky to find a small place on a bar stool, leaning on a small counter overlooking the street to enjoy a Russian salad (a kind of tuna rillettes full of herbs and flavors) and a delicious Catalan cream. And tapas every evening, of all kinds… Fortunately, I walked a lot, the only valid way for me to visit a city.
Above all, I had the chance to visit the biennial Art Photo BCN at the Museum of Design, thanks to my photographer friend Houari Bouchenak who exhibited there with his association Jiser. The galleries and photographers present were very heterogeneous, rich in techniques, views, discoveries, emotions.
I especially thank him for allowing me to make this trip and to discover the photographic artistic milieu of Barcelona.